Next concert
Christmas Concert
Join us for a programme of Festive Light Music and Carols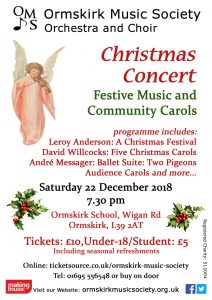 Leroy Anderson: A Christmas Festival and Sleigh Ride
David Willcocks: Five Christmas Carols with Choir and Orchestra
André Messager: Ballet Suite: Two Pigeons
Choir Carols
Audience Carols
Saturday 22 December 2018 – 7.30 pm at Ormskirk School, Wigan Rd, Ormskirk, L39 2AT.
Includes seasonal refreshments!
Tickets: £10, Student/Under 18: £5 (no booking fees!)

Dates for your diary
23 March 2019 – Spring Concert
29 June 2019 – Summer Concert
16 November 2019 – Autumn Concert
Previous concerts
Saturday 17 November 2018
'The Great Composers' – Autumn Concert with Choir and Orchestra
Beethoven: First piano concerto, with soloist: Tom Kimmance
Schubert: Symphony No. 2
Mendelssohn:
Overture: 'The Fair Melusine'
Hear My Prayer – choir and orchestra
Verleih uns Frieden – choir
Dame Ethel Smyth: March of the Women (for the centenary of votes for women)
Saturday 30 June 2018
"Entente Cordiale" – Ormskirk Music Society – Summer Concert with Choir and Orchestra
To mark the Centenary of the end of the First World War, the Ormskirk Music Society Orchestra and Choir present an "Entente Cordiale", featuring the music of English and French composers.
Programme included:
Cooke: The Great War – medley for Choir and Orchestra
Malcolm Arnold: English Dances and Serenade for Guitar and Strings
Cecile Chaminade: Concertino for Flute & Orchestra.
William Butterworth: A Shropshire Lad and The Banks of Green Willow.
Faure: Cantique de Jean Racine,
Ravel: Pavanne pour une Infante Defunte,
Soloists: Helena Cooke, Flute; Jerome Ness, Guitar
Conductor: Jim Cooke, Choral Director: Daniel Adams
Concert Supported by the Malcolm Arnold Trust