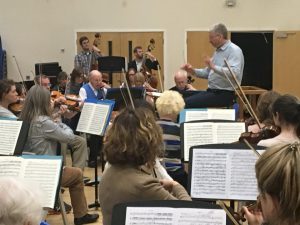 Under the baton of musical director, Jim Cooke, the OMS orchestra performs a broad range of music from the great symphonies and concertos to the work of contemporary British composers, film music and light orchestral selections. We give four concerts each year, three jointly with the choir and one exclusively orchestral concert.
If you love playing the great classical symphonies, and concertos, you'll love OMS.  We also perform interesting pieces from the light music repertoire, from living composers, of course have the pleasure of accompanying our talented choir during many of our concerts. As a member you will have the opportunity to contribute ideas for new repertoire also.
There are vacancies for all strings, (especially violas and double basses), and for some woodwind, brass and percussion instruments. Come along and try us out!
We are not currently rehearsing due to social distancing. However, the orchestra continues to meet every Thursday at 8.45pm via Zoom for a "virtual tea break". Here we chat about life, music and making fun recordings under lockdown. We are also working on a project to put together a recording of the 'Serenade' from Elgar's Wand of Youth Suite. If you play an orchestral instrument and would like to be a part of this project, email clarebhamilton@hotmail.com for more information, including a click track, parts and details of how to submit your recording. Details of how to join the Zoom meeting are on our Facebook page.
We usually rehearse on Thursdays from 7.45 pm to 9.45 pm at Asmall Primary School, Tennyson Drive, Ormskirk, L39 3PJ.
Interested in joining our orchestra? – come to one of our rehearsals – click for more details…