Previous concerts
Below are a details of a few of Ormskirk Music Society previous concerts.
Sat 16 November 2019 – Autumn Spooktacular!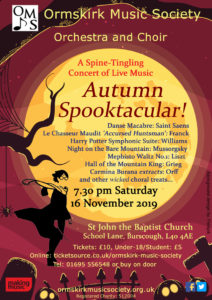 Trick or Treat? A spine-tingling Programme including:
Danse Macabre: Saint Saens
Chasseur Maudit (Accursed Huntsman): Cesar Franck
Night on the Bare Mountain: Modest Mussorgsky
Mephisto Waltz No.1: Franz Liszt
Harry Potter Symphonic suite: John Williams
Mischief and Magic: Gabriel Ness (premiere)
Hall of Mountain King: Edward Grieg
Carmina Burana extracts: Carl Orff
Evening Prayer from Hansel and Gretel: Englebert Humperdinck
Summer Concert – Last Night of the Proms – Saturday 29 June 2019
All your P
roms favourites, including Pomp and Circumstance March, Henry Wood Fantasia on British Sea Songs, Jerusalem, Rule Britannia, plus:
Manuel Ponce Concierto del Sur for guitar and orchestra, 1st Movement, soloist: Jerome Ness
Farnham Festival Overture – R. Bennett
Cortege – Rob Howard
Somerset Rhapsody and Songs of the West – G. Holst
La Vida Breve, Dance no 1 – de Falla
Four Songs for Sailors – Dyson
Spring Choir Concert – A Little Light Music – Saturday 4 May 2019
Ormskirk Music Society Choir, led by Dan Adams perform a concert of light music. 

The programme will include vocal arrangements of popular Light Music Classics including Elizabethan Serenade, Roses of Picardy, Blue Tango, and even the Dam Busters March! The concert will also feature Viennese favourites to keep you in a party spirit!
Also featuring Jerome Ness on Classical Guitar, and Willow Brass.
A great event if you'd like to see a choir in action and are considering joining yourself!
Spring Orchestral Concert – Saturday 23 March 2019
Verdi – Nabucco overture
Tchaikovsky – Symphony No. 6 (Pathétique)
Dvořák – Cello concerto, with soloist: Hikaru Fuminashi
A stunning concert drawing from the great Romantic composers beginning with Verdi's dramatic and rhythmically vibrant Overture Nabucco. Another main feature is Tchaikovsky's final Sixth Symphony ('Pathetique'), first performed under the composer's baton only nine days before his death, and full of foreboding and drama.
The most popula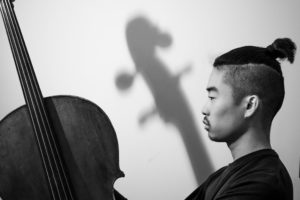 r of all cello concertos – the Dvorak Cello concert in B Minor – was chosen in memory of the cellist Brian Boothroyd who passed away last year, after more than 30 years' service as player, patron, treasurer and committee member of the Ormskirk Music Society. And the orchestra were delighted to welcome the extraordinarily talented Japanese-Australian cellist Hikaru Fuminashi as soloist for this passionate and expressive piece. Hikaru Fuminashi began playing cello at the age of 8, and as a young player led the cellos in the Sydney Youth Orchestra and Australian Youth Orchestra, and toured Munich, Prague and Vienna. He studied at the Sydney Conservatorium of Music, where he won the High School concerto competition and played his first concerto with the Penrith Symphony Orchestra in 2015, aged 18. He continued his studies with a scholarship to the Royal Northern College of Music in Manchester, where he is in his final year, studying under Hannah Roberts.
Christmas 2018 – Saturday 22 December 2018
A programme of Festive Light Music and Carols, including
Leroy Anderson: A Christmas Festival, Belle of the Ball, Sleigh Ride,  
André Messager: Ballet Suite: Two Pigeons,  
Gustav Holst: Four Old Christmas Carols (3 and 4), Audience Carols
Autumn 2018 – Saturday 17 November 2018
'The Great Composers' – Autumn Concert with Choir and Orchestra
Beethoven: First piano concerto, with soloist: Tom Kimmance
Schubert: Symphony No. 2
Mendelssohn: Overture: 'The Fair Melusine' Hear My Prayer – choir and orchestra
Verleih uns Frieden – choir
Dame Ethel Smyth: March of the Women (for the centenary of votes for women)
Summer 2018 – Saturday 30 June 2018
"Entente Cordiale" – Ormskirk Music Society – Summer Concert with Choir and Orchestra To mark the Centenary of the end of the First World War, the Ormskirk Music Society Orchestra and Choir present an "Entente Cordiale", featuring the music of English and French composers. Programme included:
Cooke: The Great War – medley for Choir and Orchestra
Malcolm Arnold: English Dances and Serenade for Guitar and Strings
Cecile Chaminade: Concertino for Flute & Orchestra.
William Butterworth: A Shropshire Lad and The Banks of Green Willow.
Faure: Cantique de Jean Racine,
Ravel: Pavanne pour une Infante Defunte,
Soloists: Helena Cooke, Flute; Jerome Ness, Guitar
Conductor: Jim Cooke, Choral Director: Daniel Adams
Concert Supported by the Malcolm Arnold Trust