We have a long and venerable tradition of hosting a chamber music, singing and general party piece evening called At Home for our members, friends and family. This year, we decided that while we could not make this happen in real life, we would take it online instead. We set up a private Facebook group and then invited our contacts to join. Brave members (lots of them in the end!) uploaded videos of themselves singing and playing and then we all agreed to watch them online at the same time, which happened to be Saturday 4 April at 7.30pm. All music things start at 7.30pm don't they!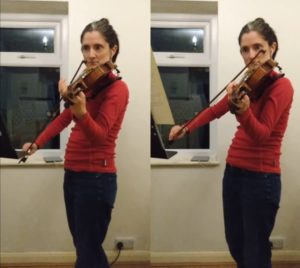 We had a movement from the Bach Double Violin concerto magically played by the same person twice, a Tudor song and drum performance (in period costume – top marks for authenticity!), arias, part of a Bach cello suite on viola, top notch Chopin on piano, a rather unconventional performance using toilet roll and a cello (which actually sounded amazing), and much much more.
Wine was consumed – an advantage of not having to perform live – and a Zoom music quiz followed. All those years of office presentations finally paid off and the PowerPoint was appreciated by all.